Bronze Bird of Prey Sculptures for Sale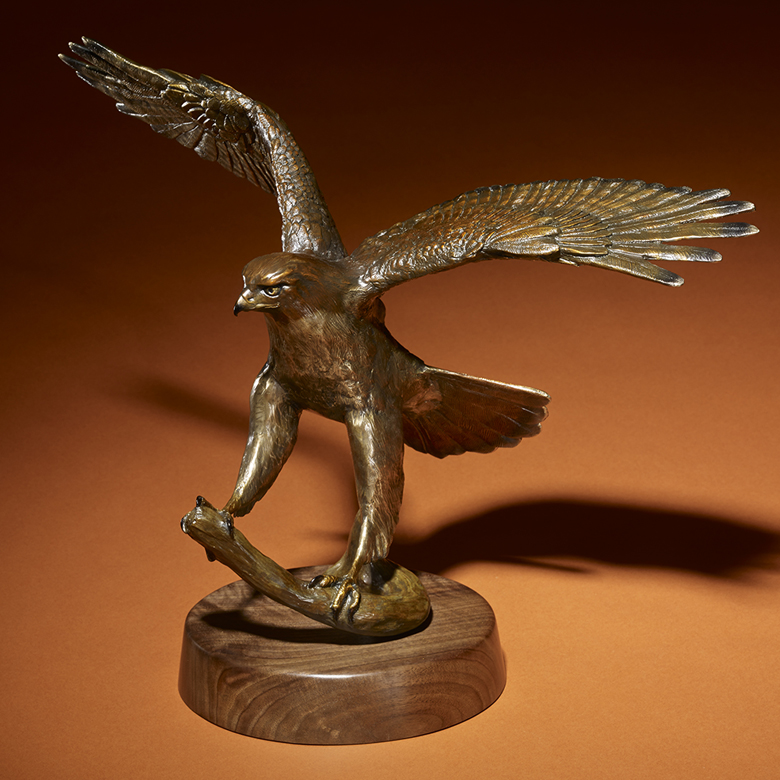 Touchdown
As part of a limited-edition series of 100 casts, this sculpture of a red-tailed hawk measures 16" (H) x 21" (W) x 11" (D).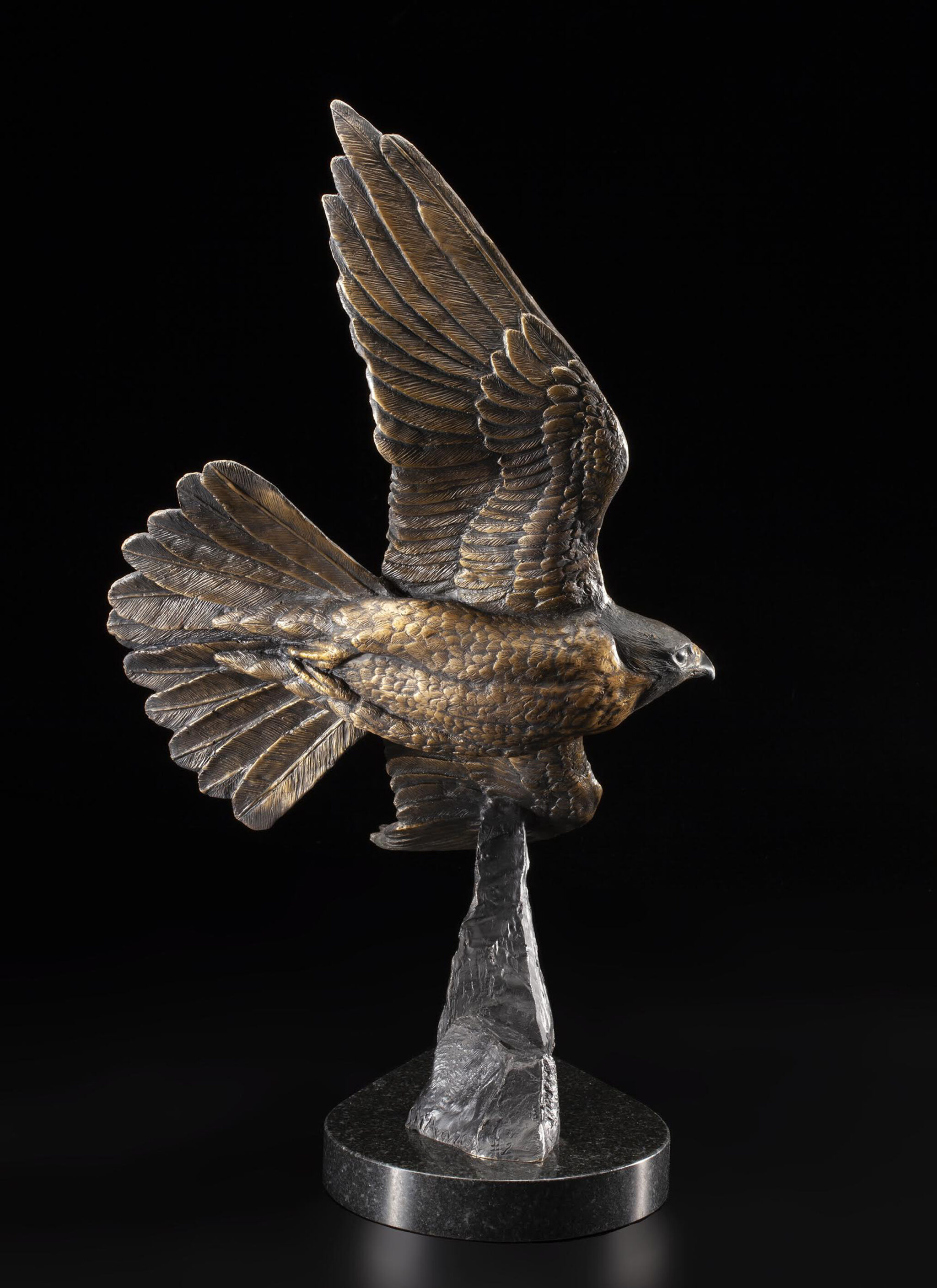 Against the Wind
24" Wingspan 13" Beak To Tail
Bronze, Limited Edition 25
Known as the world's fastest bird of prey, the peregrine falcon is the subject of this sculpture that captures how beautifully and gracefully it flies. Every detail was finely crafted for this piece that's part of a limited-edition series of 25 casts. When selecting a pose for this piece, Shawn intended to let the viewer easily see the topside and bottom of this magnificent raptor. He also wanted the bird to look like it's in free flight, unattached to the ground.

Shawn also created a cantilevered rock, partially hidden under the falcon's wing. This adds a realistic element to the piece as peregrines often fly along jagged cliffs. The sculpture can be mounted on a teardrop-shaped granite base. You can request it to be mounted on a wooden turntable instead for easy rotating. However, please note that this is available for a small upcharge.
Osprey Soaring
This high-quality bronze piece is part of a limited-edition series of 50 casts and measures 21" (H) x 12" (L) x 10" (W). It was created in the US using a time-tested, centuries-old "lost wax process." The bird sculpture is placed on a handsome, custom-made, black granite base.

Osprey Soaring depicts an osprey gracefully soaring through the sky and accurately reflects the raptor's anatomy with precise attention to every detail. This is an impressive home or office decor piece designed to fit in small spaces, such as mantles, bay windows, or desks.
Serene Vision
LIMITED EDITION 50, 36" 29"W 9"D
Shawn's inspiration for Serene Vision came one summer afternoon while canoeing slowly down a peaceful river. It was nearly dusk when he saw a great blue heron clinging onto a weathered piece of driftwood. He was taken by this beautiful bird's ability to stay so still while scanning for its evening meal. Shawn continued to gaze upon the heron until daylight faded, creating a beautiful sunset. He took that peaceful image with him that day, kept it in his mind's eye, and recaptured it through this sculpture.
Terminal Velocity Osprey
This sculpture depicts an osprey with its talons out as it prepares to grab fish for dinner. The bird, cast in bronze, features hundreds of finely detailed and meticulously placed feathers. It's attached to a slender, unobtrusive, stainless-steel crescent moon resting on a turbulent water element with a protruding fish fin. As part of a limited-edition series of 30 casts, this striking piece will stand out in any room or outdoor area. Its dimensions are 33" (H) x 11" (W) x 12" (D).
Majestic Vision
Featuring a bald eagle with its talons outstretched and wings swept back, this sculpture reflects the majestic spirit of this bird. It also captures the attention of anyone who views it. The piece measures 34" (W) x 20" (H) and is part of a limited-edition series of 50 casts. Each piece is cast in bronze using a time-tested, centuries-old "lost wax process." In addition, its base is made of high-quality black granite.
Regal Presence
This bronze bust of a bald eagle is part of a limited-edition series of 25 casts and measures 10" (H) x 7" (D) x 10" (W).